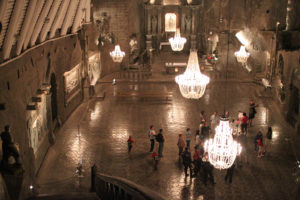 Our company offers you an unforgettable tour to the incredible salt mine  in Wieliczka, Poland.  It is famous around the world and every year it visits huge amount of tourists. No wonder – it is absolutely magnificent place that you definitely must see if you spend some time in Poland.  It is located in the surroundings of Krakow and there are many ways to get there from the city.

---
Discover The Salt Mine in Wieliczka with Best Of Tours
Wieliczka Salt Mine is hosting many events: concerts, weddings or holy masses.

An incredible Salt Mine

The Salt Mine in Wieliczka is one of the most important and precious culture heritage in Poland. It is extremely popular object for tourists from around the world. Thanks to its uniqueness and tradition it is recognized in UNESCO's World Cultural and Natural Heritage List. It amazes with it's incredible chambers craved entirely in salt. Although is one of the oldest salt mines in the world, it was well-maintained till today. Today it is for sure the boast of Polish tourism and the whole history of mining.

The touristic route of Wieliczka Salt Mine tour is 3 km long and takes around 4 hours. It includes 20 chambers – each of them is different and characteristic. The most popular one is the chamber with an impressive grand chandelier, also entirely made of salt. Beside chambers, you will see beautiful chapels and the treasury as well. The mine goes down to the depth of around 135 meters underground.

Some information about the Tour

We would like to take you on a tour where you will enjoy your time as much as it's possible. Our English speaking, friendly driver will pick you up from your hotel in Krakow. You can chose the time of the tour however, we do recommend to start the journey around 8 am. You will have enough time to enjoy all the attractions of the salt mine. It takes around 30 minutes to get there. 

We can also provide our local guide who will collect you at the parking in Wieliczka. This is another, extended option of the tour. If you wish to have a guide in other language than English, please let us know in advance. Other foreign languages that we can provide on the guided tour in Wieliczka are: Spanish, German, French, Russian, Italian.

When you are ready to go back to Krakow, our driver will take safely home drop you off at your hotel. The whole tour should take around 5 hours.
About the Salt Mine

The Touristic Route includes 800 steps to take so it's good to have comfortable shoes. Some of the corridors are entirely dark so remember walk carefully and mind other people. There is also the route suitable for wheelchairs.

You can also take the Miner's Route that is also very popular among tourists. It includes descending into the depths of mine by the oldest mine shaft in Wieliczka. During the whole tour you'll have to wear the miner's uniform and take the mining equipment with you. The whole group of visitors will be guided by the experienced guide.

 

Usefull Information

Be prepared for many steps to take.

Additionally, you can visit Zupy Krakowskie Museum, located on a third level. It is located in the inactive part of one of the oldest rock salt mines in the world (Zupa Krakowska). It contains another 14 chambers, where you can see story of the mine and tools, that were being used for mining and transporting the salt. There is also an exhibition concerning story of the city of Wieliczka.

Don't wait and book the tour to an incredible underground world!

The private Wieliczka Salt Mine Tour includes:

Friendly, English – speaking driver




– In our fleet we have also drivers, who speak fluently in different languages. If you wish, you can choose one of them: Spanish, Italian, German, Russian, French. Please contact our customer service to check their availability.- The driver is your private local guide as well.

Comfortable, air-conditioned, private mini-van – If you are travelling with the bigger group, we have private bus available. Please let us know while booking your transfer.

All transportation costs, any parking charges

Local guide in different languages (extended version)

Experience, high quality, professionalism

Insurance

Free snack and cold beverage

Free cancellation- There is no additional fare for cancelling your transfer with our company. However, if you wish to do so, please contact us at least 24 hours in advance.
---
Prices of the Tours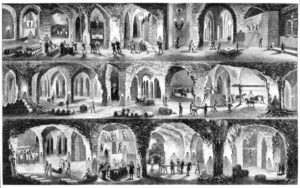 | | | | |
| --- | --- | --- | --- |
| |  1 – 4 persons |  5 – 9 persons |  10 + |
|      Wieliczka Salt Mine Tour | 70 € | 100 € | Contact Customer Services |
|      Wieliczka Salt Mine Tour with Guide | 90 € | 120 € | Contact Customer Services |
---
Other tours with BEST OF KRAKOW
Check out our Auschwitz tour from Krakow as well. This is another essentially important monument for Poland that you can't miss if you visit the country.